1. Should we expect a paradigm shift?
Finally we are seeing a flattening of the worldwide COVID-19 curve and lifting of lockdowns across major cities. On May 14, Japan lifted its state of emergency for 39 prefectures. With people and businesses asked to either refrain entirely or severely restrict so many activities during the crisis, we are now entering a new phase of resuming daily life while coexisting with the virus.
Some experts are predicting that the post-COVID-19 world will be accompanied by a transformational paradigm shift, spanning every aspect of our lives from business and commerce, to education to politics. Indeed, the pandemic has already ushered in rapid adoption of long-advocated initiatives, such as cashless society, online shopping, teleworking, paperless society, online education, and telemedicine. We can now finally predict that Japan will see step changes in these areas, with COVID-19 acting as the catalyst.
2. Communicating with citizens and consumers online
How has the business response to COVID-19 been perceived?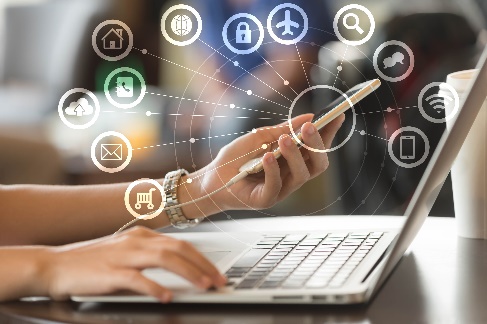 As with the rest of the world, companies in Japan have been driving measures such as teleworking to curb infections. A number of businesses also refocused resources and output to meet changing needs, whether it be supporting healthcare professionals or creating content for citizens staying at home. In their own way, each of these companies are making positive contributions to their community and society as a whole.
Garnering praise across traditional and social media alike, these initiatives deliver content while still encouraging social distancing, such as branded, printable coloring-in images for restless children stuck at home, workout videos, tips on how to make the perfect home coffee, or 'secret' recipes from renowned restaurants released on YouTube, Twitter, Facebook, and Instagram. These businesses are using online communications with citizens and consumers to their advantage by adding value and winning positive attention.(See more in Japanese.)
3. Latest W2O report in the spotlight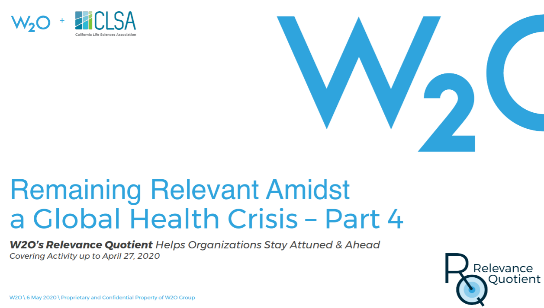 Healthcare marketing communications specialist and our California-based global partner, W2O, tracks the relevance of leading companies using proprietary online and offline metrics. W2O's unique "Relevance Model" examines the achievements of companies with high degrees of relevance and are winning praise from media and stakeholders during COVID-19-related adversity. The results published in its latest report offer some valuable insights into the post-COVID-19 world.
In this newsletter we have compiled a summary of W2O's "Relevance Model" with selected excerpts from its latest report below.
4. What does "relevance" mean for business?
In the marketing world, relevance is often defined as "a measure of how important your business brand is to meet the wants and needs of the consumer." W2O expands on this by defining relevance as, "a data-driven, agile way of thinking and operating that is attuned to societal and cultural currency."
For a company to boost its relevance, it needs to reduce the gap that lies between company expertise (capabilities, lines of business, and future growth) and stakeholder expectations (political, technological, cultural and generational). In other words, these two areas should meet and overlap as much as possible.
W2O has been tracking the relevance of 240 companies for three years with its unique evaluation metrics that monitor mainstream articles and social media to grasp what business stakeholders are interested in, and how businesses are responding. The results for 2019 reveal that only 6% of 140 healthcare-related businesses were ranked as having "strong" relevance.
Among Fortune 100 companies, those with "strong" relevance stood at just 8%, of which only 1% were regarded as "resilient". Healthcare industry stakeholders and media recorded interest in controversial topics, such as health insurance, marijuana, and mental health, demonstrating how challenging it can be for businesses in this field to differentiate themselves and be recognized as positive influences.
5. COVID-19 and society's changing interests
US citizens have been fixated on COVID-19 since January 2020. Public attention has shifted away from President Trump and the presidential primaries. With public sentiment so dominated by the pandemic, some businesses were successful in driving their relevance, while others lost out. The key here is agility – a company's ability to reprioritize to meet shifting public expectation(See COSMO Newsletter #4 for case studies of companies in the relevance ranking here  in Japanese)
It's against this backdrop that W2O updated its "Relevance Model" to more accurately evaluate maintaining good relations with key stakeholders over time. Under the new model, they have evaluated the characteristics of businesses still scoring high relevance now.
Crucially, businesses in this category all embrace tension: "Companies with high relevance do not see conflicting issues as something bipolar, but rather focus on striking a balance between the issues." Let's take a closer look at the implications of this.
6. From 'OR' to'AND': Striking a balance when conflicting elements cause tension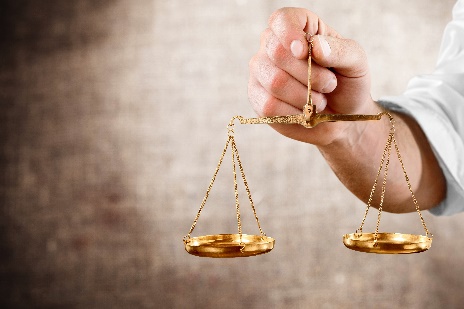 National vs. Local
Relevant organizations recognize and engage within the tension that lies between national, state, and city-level leadership. They do so by providing a point-of-view on the resulting differences and encouraging open discussion, particularly among employees.
Public Health vs. the Economy
Relevant organizations are mindful of the conflict of interest between public health, the economy and civil liberties. They prioritize health, but create policies for returning to work and protecting jobs.
Societal Good vs. Long-Term Business Sustainability
Relevant organizations step up to provide goods and services for free or at significantly reduced prices for the common good, having planned ahead for the long-term sustainability of their operations. These efforts are typically done without much fanfare.
New Ways of Marketing
Relevant organizations empathize with and support stakeholders more than marketing to them. Some significantly limit or completely suspend advertising. Some donate their ad space to small businesses. Nonetheless, consumers are indicating that marketing for things unrelated to the virus is acceptable. 90% of Google ads are non-COVID-19-related and performing well.
The New Normal vs. the Next Normal
Organizations with high relevance are not just adapting now. They're already thinking about how to sustain it post-COVID-19.
7. Organizations that boosted relevance even during the pandemic
The latest W2O report tracks the relevance of businesses from January to April 2020, offering insights on fluctuations and the actions that caused them:
■ Boston Scientific
Boston Scientific will start manufacturing a low-cost ventilator developed by the University of Minnesota, as a back-up alternative for doctors. The FDA granted the technology emergency use authorization amid the COVID-19 outbreak. Boston Scientific's relevance score increased by 5% and its ranking moved up to #7 from #13. Generated coverage from Bloomberg, The Boston Globe and healthcare vertical.
■ VERTEX
Vertex made an emergency offer of free cystic fibrosis medication for 90 days to the pan-Canadian Pharmaceutical Alliance if they agreed to negotiate in good faith and conclude on a Price Listing Agreement. Vertex's relevance score is up 13%. Ranking moved up to #20 from #57.
■ CRISPR
CRISPR's gene editing technology may scale to COVID-19 testing. Researchers published a study last week describing a new COVID-19 test that uses the technique to deliver results in 40 minutes. CRISPR's relevance score is up 90%.
■ Disney
Disney's April 16 "Family Singalong" on ABC.com brought together a star-studded line-up to entertain families at home. The special raised awareness of Feeding America and its network for those needing support during the pandemic. The show drew 13M total viewers. Disney's relevance score is up 51% in two weeks and the company is currently ranked #7. The company has seen high relevance volatility dropping in and out of the top 10.
■ Google & Apple
Google and Apple announced a partnership to build a contact tracing technology for their smartphone platforms. The opt-in technology would alert users if they have come in contact with a COVID-19 infected person. Privacy advocates have raised concerns because the technology involves sharing sensitive health information via mobile devices. However, Google's score is up 25% while Apple's score is up 46%. Google holds on to its #6 ranking, with Apple at #4.
8. COVID-19 lessons to live by
The W2O report concludes: "It's taken some time for stakeholders and organizations to embrace these tensions as an 'AND' not an 'OR.' As we observe that consumers are engaging with less news on COVID-19, it's ever-more important that companies continue to recognize that."
In summary, here are seven key lessons to take away:
Empathy is key
Actions speak louder than words
Response initiatives must account for all stakeholders and be long-term centric
Transparency is not optional
Partnerships drive faster innovation
Agility is essential
Stability is expected
We hope these selected findings from W2O's latest report will be of value when building your own communications strategies for the new COVID-19 age. (Click here to see the full report).
W2O's US-based "Relevance Model" evaluation and ranking has been well received by clients. Having introduced the concept, we hope to see a similar model developed for Japan that caters to local business and organizational characteristics. Where will your organization rank?
Please click here for the source blog article "Balancing Tensions: Key to Maintaining Relevance in a Tumultuous Time" posted by W2O.
---
This newsletter expresses the views and opinions of COSMO. Any references to other figures, corporations or organizations are compiled from information made publicly available online, in expert opinion articles or other media materials.