Cosmo Public Relations Corp. today announced that their Deputy Managing Director, Tomomi Nagasawa, was shortlisted as PR Professional of the Year (Agency) at PR Awards Asia 2019. PR Awards Asia celebrates the most outstanding, inspired and successful campaigns, individuals and companies in Asia-Pacific's communication industry.
Tomomi creates multi-stakeholder healthcare communication strategies to deliver the best client outcomes. She was instrumental in transforming COSMO to its current expertise in healthcare and biotech. Tomomi is also a role model for young Japanese women; she effectively wears three hats: she is the Deputy Managing Director of COSMO, she is the mother of a young child, and she is also a local politician's wife. Balancing these vastly different duties, she exemplifies a new generation of Japanese women, who can have it all.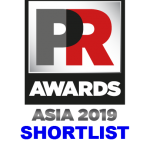 Tomomi was born in Japan and earned a BA in global business from Akita International University. She has been with COSMO since 2008, and acts as Deputy Managing Director. Tomomi led the team which created Japan's first-ever social media campaign for a branded pharmaceutical product. Japanese healthcare promotion regulations are some of the most restrictive in the world; however, Tomomi influenced a typically conservative pharmaceutical industry in order to deliver a Chronic Obstructive Pulmonary Disease (COPD) social media campaign. This campaign was recognized as Pharmaceutical Campaign of the Year at the 2013 SABRE Awards Asia-Pacific.