Online Survey of 300 Cancer Patients in Japan
Real Patient Experiences of Choosing Cancer Treatment Revealed
30% Followed Doctors' Recommendation Without Sufficient Understanding
TOKYO – July 31, 2020 – In light of the growing number of cancer treatment options now available, COSMO HEALTHCARE has conducted a nationwide online survey of 300 patients across ten major types of cancer in order to gain insight into how informed cancer patients are when deciding on treatment options.

80% of cancer patients actively researched treatment options, but almost 30% reported not understanding the content they found and ultimately had to take their doctor's advice without full understanding.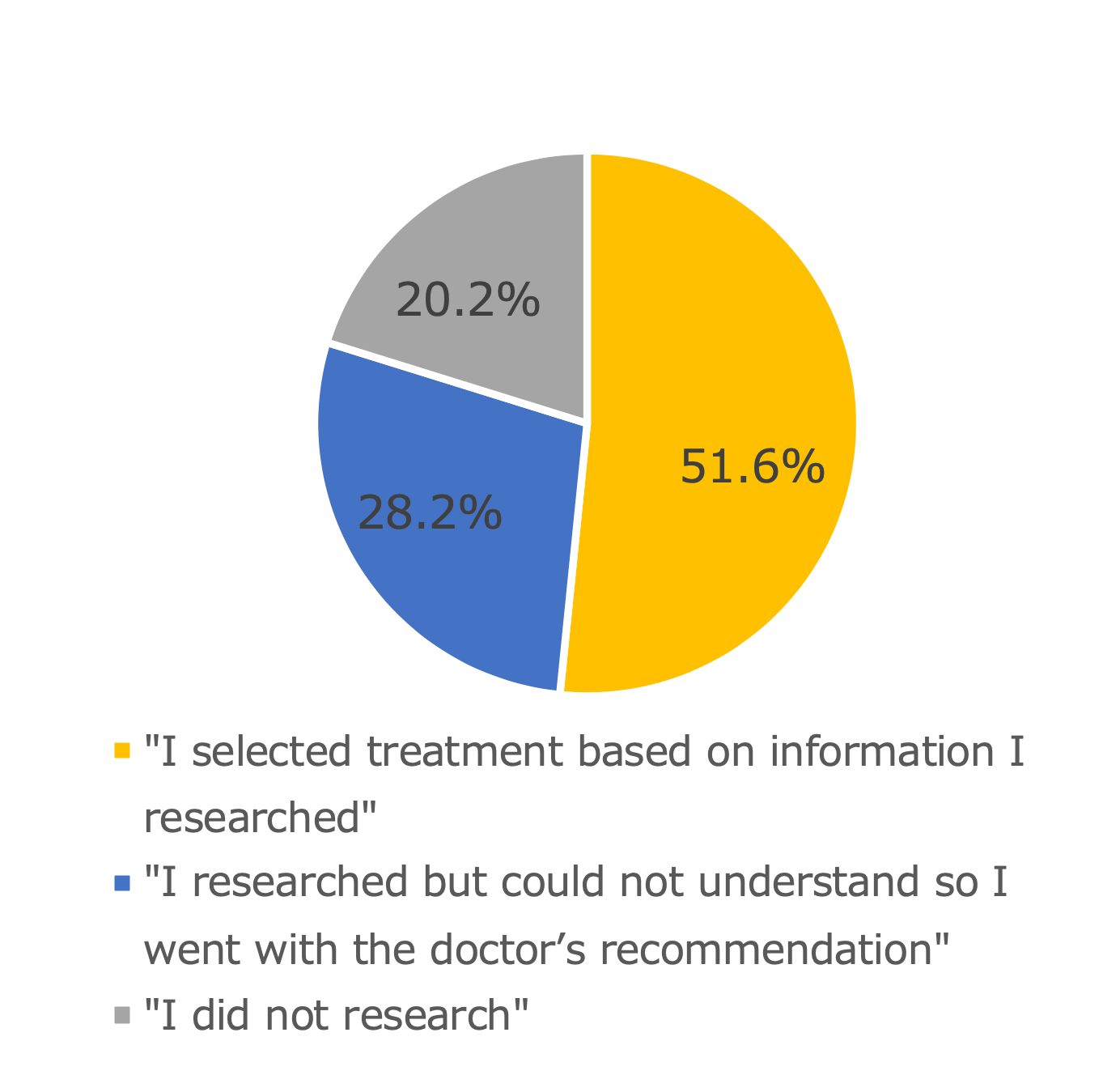 Asked "When considering treatment options for your cancer, did you select after researching different methods yourself?", 51.6% of respondents answered "I selected treatment based on information I researched;" 28.2% answered "I researched but could not understand so I went with the doctor's recommendation;" and 20.2% said "I did not research."
The results show that while the majority of cancer patients (80%) proactively searched for information on available treatment options, just under 30% also stated they weren't able to fully understand the treatments – offering conclusive evidence that the information needs for patients choosing treatment methods are not currently met.
Patient understanding of treatment options vary between cancer types; 50% of gastric cancer respondents reported not understanding after doing their own research.
Deeper analysis of the results reveals interesting findings when comparing responses between cancer types. The majority of prostate cancer patients (85%); pancreas and liver cancer patients (67%); and breast cancer patients (63%) answered "I selected treatment based on information I researched", compared to just 33% of gastric cancer patients – the lowest response recorded among all ten cancer types.
50% of gastric cancer patients answered "I researched but could not understand so went with the doctor's recommendation."
These data points confirm that the levels of information available to patients are disproportionate among different cancer types.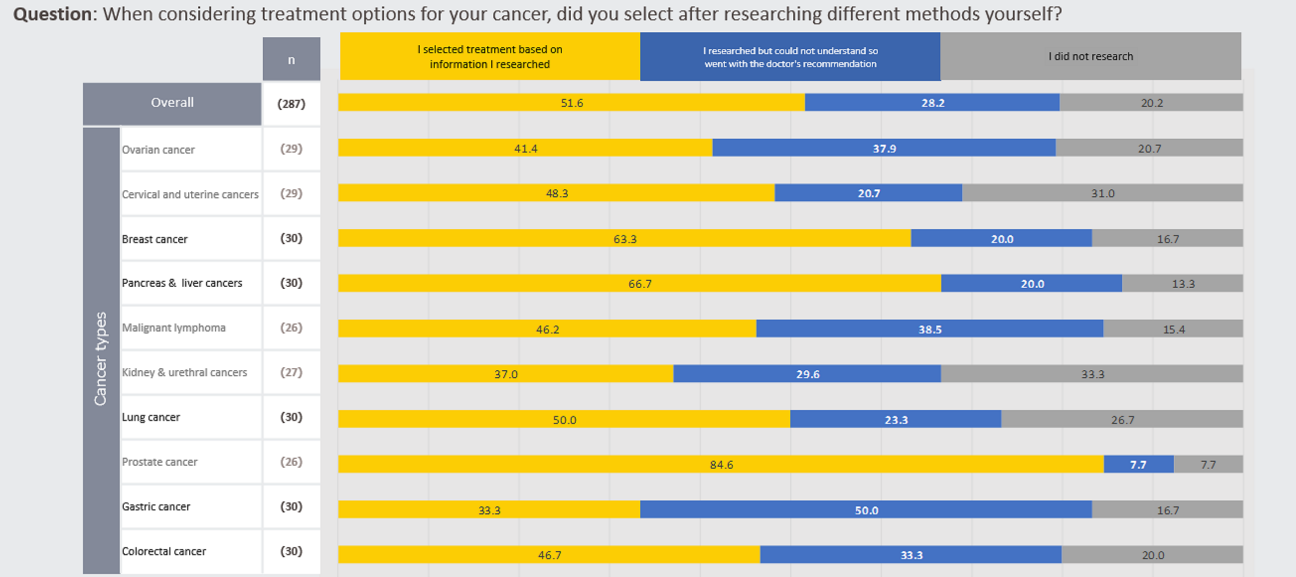 Easy-to-understand information is critical in a world where patients are likely to "self-educate and select own treatment options."
Once thought of as an incurable disease, the five-year survival rates for cancer are growing each year. It is now common for those diagnosed with cancer to survive a long time with the disease. As the number of treatment options also grows, the concept of 'shared decision making' has entered the spotlight, whereby doctors and patients together share and examine the scientific evidence.
With 80% of patients confirming that they do their own research, the survey data supports the argument that medicine is no longer something "provided" to patients, but rather, something that patients "actively participate in" by "self-educating" and expressing their choice.
However, the survey also reveals that too many cancer patients in Japan remain unable to fully understand the content they find, meaning that steps must be taken in order to equip patients with more easily understandable information. Today's collaborative doctor-patient relationships and healthcare trends dictate that this information resource demand will only intensify going forward, becoming even more important for healthcare facilities, pharmaceutical companies, and patients alike.
---
Survey overview
Title: Cancer Patient Insight and Patient Perception of Pharmaceutical Companies
Period: Conducted from March 11 to March 16, 2020.
Method: Online survey.
Respondents: 300 cancer and tumor patients in Japan aged 20 – 69 (30 patients per cancer type).
Research company: Rakuten Insight, Inc.
Cancer Types Surveyed [10]
Ovarian cancer; cervical and uterine cancer; breast cancer; pancreatic and liver cancer; malignant lymphoma; kidney and ureter cancer; lung cancer; prostate cancer; gastric cancer; and colorectal cancer.
Companies Surveyed [19]
Takeda; Astellas; Taiho; Daiichi-Sankyo; Eisai; Chugai; Ono; Shionogi; Kyowa Kirin; Pfizer; Novartis; MSD (Merck & Co.); GSK (GlaxoSmithKline); Sanofi; Amgen; Bristol-Myers Squibb; AstraZeneca; Bayer; and Eli Lilly.
Patient Insight Report Contents
Patient attitudes toward treatment

Selecting treatment options
Physicians' explanation of treatment options
Researching treatment options
Selecting prescription medicine
Expensive therapies

Patient awareness and perceptions of pharmaceutical companies

Awareness of pharmaceutical companies
Awareness of pharmaceutical companies as manufacturers and distributors of anticancer therapies
Positive perception of pharmaceutical companies
Expectations of pharmaceutical companies in the anticancer field
The full survey report is available for purchase. Please submit inquiries here